Maharajas' Express Train India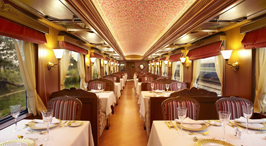 India, the mystical land with a glorious past, is famous for its versatile cultures, diversity of religions and beliefs, royal charm and unparalleled heritage. A land of varied colors and customs, blended with innumerable fairs and festivals, bountiful nature and untamed wildlife, dotted by royal palaces and majestic forts, India has a lot to offer to tourists from across the globe.
Relive the times of the Indian maharajas, and rediscover the charms of enchanting India through the royal train journey of the Maharajas' Express.
Maharajas' Express, the luxury train of Indian railways, voted the World's Leading Luxury Train in 2012, showcases the rich culture, history and heritage of India through its five unique tours, spanning the whole of India. You travel through the night to various locations, and have the day to explore and enjoy them. The train was launched in 2010, with new routes and itineraries added in 2012.
The Maharajas' Express comprises of 23 coaches - five deluxe carriages, six junior suite carriages, two suite carriages, and one presidential suit. The train also has two fine dining restaurants, one bar, and an observation lounge with its own bar, game tables and a comfortable club. The train has a unique and latest suspension system for a seamless ride, individual climate control system in all cabins, environment friendly toilets, and direct telephone from each cabin. All cabins have facilities like WiFi connectivity, TV, DVD Players to keep you entertained and engrossed during the royal journey. Besides safety measures like CCTV cameras and fire alarms, the train offers a 24 hours valet service as well as round the clock paramedic assistance.
GENERAL INFORMATION
The Maharajas' Express schedules the following five tours:
The Heritage of India Tour of 7 nights, departs Mumbai and travels north through Rajasthan to finish in Delhi, covering Ajanta, Udaipur, Jodhpur, Bikaner, Jaipur, Ranthambore National Park, and Agra/Taj Mahal.
The Indian Splendour Tour, departs from Delhi and travels south through Rajasthan to finish in Mumbai, covering city, Ranthambore, Jaipur, Bikaner, Jodhpur, Udaipur and Balasinor, in seven nights.
Indian Panorama departs from delhi & ends in Delhi, covering Agra, Gwalior and Orchha, Khajuraho erotic temples, Bandavgarh National Park, Varanasi, and Lucknow, in seven nights
The Treasures of India and Gems of India Tours, run for 3 nights each departing from and returning to Delhi, covering India's renowned Golden Triangle, as well as Ranthambore National Park.
Maharajas' Express Schedule The tours run from October to April every year, typically with one departure per month.
The Maharajas' Express fares begin from $3580 per person for the 3 night tours, and vary from $6360 for a deluxe cabin to $22000 per person for a presidential suite within the seven night tours. The tariff includes thecost of travel, accommodation, all meals, all house wines, beers and spirits, all sightseeing which includes entrance fees, guides and tour managers, and other entertainments. Service tax is extra applicable.
This Indian luxury train is owned & operated by Indian Railway Catering and Tourism Corporation Limited (IRCTC), a public sector enterprise under the Ministry of Railway. IRCTC is the tourism arm of Indian Railways.