Maharaja Express Destinations - Agra
Agra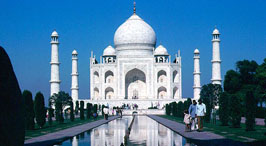 The five impeccably crafted itineraries of the Maharajas Express take you through a tour of sixteen hand picked destinations of India, which paint a complete portrait of this wondrous and fascinating land. Described below are all the 16 colors of this incredible picture which help you envisage the astonishing once in a lifetime journey.
Home to the world renowned Taj Mahal, the symbol of love and magnificence, Agra has been immortalised as 'City of the Taj'. Located on the banks of river Yamuna in the state of Uttar Pradesh, barely 200 kilometres from Delhi, Agra was capital of the erstwhile Mughal Empire from 1556 to 1658 AD. Amongst one of the Seven Wonders of the World, as well as a World Heritage site, Taj Mahal is considered to be a must see for any visitor to India.
Tourists also flock to visit the other two World Heritage sites in Agra – The Agra Fort (also known as the Red Fort) and Fatehpur Sikri, located about 35 kms from Agra. More places of tourist interest include Sikandra, Jama Masjid, Ram Bagh and Itimad-Ud-Daula's tomb.
---
Other Destinations
---