Maharaja Express Destinations - Varanasi
Varanasi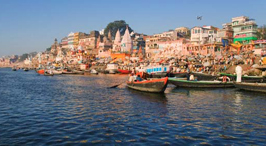 Varanasi, considered to be a Holy city, is located on the banks of river Ganga in the Indian state of Uttar Pradesh. It is one of the oldest continuously inhabited cities in the world and the oldest in India. It is the city where Lord Buddha preached his first sermon, and hence is considered an important place in the development of Buddhism.
Many names have been given to Varanasi – Banaras, Benares, and Kashi. Varanasi is often referred to as "the city of temples", "the holy city of India", "the city of lights", "the religious capital of India", "the city of learning", and "the oldest living city on earth."
Ghats, the embankments made in steps of stone slabs along the river bank where pilgrims perform ritual ablutions, are an integral part of the spiritual city of Varanasi. Some of the most famous ghats of Varanasi are Asi Ghat, Kedara Ghat, Dashashwamedha Ghat, Manikarnika Ghat, Scindia Ghat, Panchganga Ghat, and Lalita Ghat. Other places of interest in Varanasi include Sarnath, Kashi Vishwanath Temple, and the Vishwanatha Khanda.
---
Other Destinations
---