Maharaja Express Destinations - Khajuraho
Khajuraho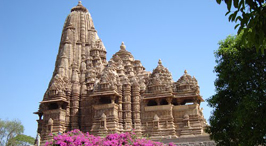 Designated as UNESCO World Heritage site in 1986, Khajuraho Temples located in the central Indian state of Madhya Pradesh, comprise the largest group of medieval Hindu and Jain temples, famous for their erotic sculptures. The temples made of sandstone, are grouped into three geographical divisions – Western, Eastern and Southern.
The Khajuraho temple complex conducts a 50 minute Light and Sound show every evening in English and Hindi, which covers the history, philosophy and the art of sculpting of these temples. Another attraction of Khajuraho is the Khajuraho Dance Festival, held every year in the first week of February (1st to 7th), which gives an opportunity to visitors to experience various classical Indian dances set against the backdrop of the Chitragupta or Vishwanath Temples.
Architecture

The temples are grouped into three geographical divisions: western, eastern and southern.
The Khajuraho temples are made of sandstone. The builders didn't use mortar: the stones were put together with mortise and tenon joints and they were held in place by gravity. This form of construction requires very precise joints. The columns and architraves were built with megaliths that weighed up to 20 tons.
The Saraswati temple on the campus of the Birla Institute of Technology and Science in Pilani, India, is modeled after the Khajuraho temples.
---
Other Destinations
---