Maharaja Express Destinations - Bikaner
Bikaner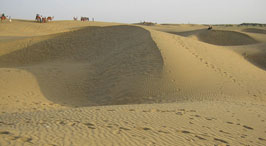 Situated in the north of desert state of Rajasthan, Bikaner was founded in 1486 AD by Rao Bikaji, one of the five sons of Rao Jodhaji, the founder of Jodhpur. Often called the 'Camel Country', Bikaner has the 'Camel Research and Breeding Farm', the only one of its kind in Asia, and one of the largest in the World, where one can spend some time with the Ship of the Desert.
The Department of Tourism, Art and Culture , Government of Rajasthan organises the "Bikaner Camel Festival" every year in the month of January. At this festival the bedecked camels are seen at their best with spectacular and unusual performances like camel races, camel dances, and one can also enjoy bumpy, neck shaking camel rides at this event.
Places of tourist interest in Bikaner include the Junagarh Fort, Lallgarh Palace, Gajner,and Laxmi Niwas Palace. Famous for its sand dunes and camel rides, Bikaner has found an indelible mark on the tourist map of India.
---
Other Destinations
---