Yoga Ayurveda Tour Packages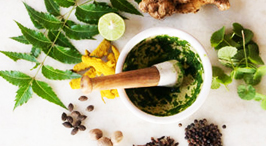 India, often referred to as the land of yogis, is home to the ancient sciences of Yoga and Ayurveda, the two separate but related disciplines of medicine. Yoga and Ayurveda are among the world's oldest medical systems that trace their origins back to over 5,000 years ago. In treatment, both yoga and ayurveda advocate for the regular practice of pranayama and meditation as well as the use of herbs, body purification procedures, food and chanting of mantras for physical, mental and spiritual health. Yoga and Ayurveda can be termed as inseparable sisters. It is also said that Ayurveda is the science and Yoga is the practice of the science.
Yoga, based on ancient Indian wisdom and culture, is not only a physical science as taught in the West, but is an art of living a healthy balanced, peaceful and contented life. Literally meaning harmony, Yoga is the harmony of body, mind and soul, harmony in relationship with living beings, and harmony with the entire universe. According to Yoga, health is not just a mere absence of disease, but a positive feeling of well-being.
Derived from the Sanskrit word "Yog" which means "To Join" or "To Unite", Yoga is a Union with God to live a contended, peaceful and balanced life. Yoga is a philosophy of life, a code of conduct and an attitude which helps to achieve the physical well being, mental peace, harmony, moral elevation and also spiritually uplifts man.