Live your life in the Backwaters with Golden Triangle of Kerala (13 nights / 14 days)
Delhi - Jaipur - Abhneri - Agara Kochi - Munnar - Kumarakom - Kochi Delhi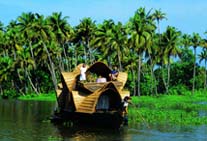 Kerala, also known by the name of Keralam, is strategically situated on the South-west region of India along Malabar Coast. It is considered to be the 13th largest state of India and has as many as 14 districts. The capital of Kerala is Thiruvananthapuram. Kerala is popular tourist destination, well-known for its backwaters, beaches, Ayurvedic tourism, and amazing tropical greenery. Whether it is the fort at Kochi or truly mesmerizing hill station of Munnar, or sleepy Kumarakom, or living in house boat, Kerala presents it all. If you want to view Kerala and its beauty from close, go for 13 Nights and 14 Days tour of Kerala.
Day 1 - 2: Old & New Delhi
As soon as you land in Delhi, our representative will meet and greet you at airport and transfer you to hotel. Stay in the hotel for remaining day and relax. In twilight, explore the hype and bustling life in this superb capital of India. Return to your hotel. Enjoy the dinner in your serene hotel room and then retire on your bed. After relishing in the taste of enjoyable breakfast, get yourself on the move as you discover old and new worlds of Delhi. Old Delhi presents mélange of cultures, both Mughal as well as ultra-modish westernized. The narrow, dingy and meandering streets give tourists fun and adventure. The Lutyen's Mew Delhi is well planned, wider roads, organized parking and well-lit streets. The tourists as they pass through much green New Delhi feel the difference and awestruck contrast between holistically two different worlds.
Spend a fabulous nice evening in delicious authentic Indian Dinner in one of the finest restaurants. Return to your hotel, unwind and then retire.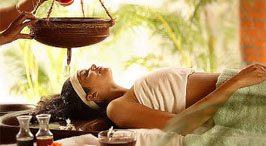 Day 3 - 4: The Pink City of Jaipur
After having a superb, delicious breakfast, get ready for journey for local sightings. It would be a great experience for you. Furthermore, go for the sightseeing tour of the City Palace, explicitly showcasing Rajput architecture and Jantar Mantar. Return to your hotel by evening. Enjoy the dinner in your serene hotel room and then retire in a comfy bed.
On the 4th day, plan for hot air balloon ride over Jaipur. After a while make trip to majestic forts and palaces, and sophisticatedly carved temples. Get set for tour of Amber Fort that will take you through the lofty and grand fortress and you experience the regality of royal Rajputana cult. Comfortably relax on elephant's back as you start riding and after almost an hour reach 16th century Amber Fort. The fort is well preserved, with its interiors as well as exteriors in a healthy state.
Return to your hotel by evening. Enjoy the dinner in your serene hotel room and then retire in a comfy bed.
Day 05 : Abhneri step well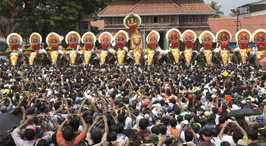 Jaipur - Abhaneri – Bharatpur – As you depart Jaipur, take a brief halt in Abhaneri village and catch the glimpse of magnificent Chand Baori – It is considered as the largest and deepest step well in the world. This well has 3500 steps with depth equivalent of 13 stories deep. Next, take the road drive to Bharatpur and on reaching there, check into the hotel.
Set out for full day tour of Bharatpur. Your first halt is at Lohagarh Fort and the Bharatpur Museum. Later in the trip, you visit Keoladeo Ghana National Park, a UNESCO World Heritage Site, also quite popular by name of Bharatpur Bird Sanctuary. The sanctuary is every birdwatcher's paradise.
The place has popularity for many species of birds, such as migratory birds. In evening, you return to your resort. Stay overnight in the resort and enjoy delicious meals.
Day 6: The Taj Mahal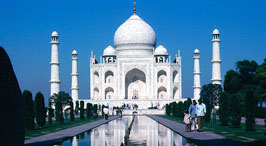 Bharatpur – Agra – After having a superb, delicious breakfast, you pack your bags and get ready for road journey to Agra. Enroute, take halt and explore old mystical Mughal city – The Fatehpur Sikri.
This glorious fortified city happened to be capital of the Mughal Empire from 1571 until 1585. However, owing to lack of water, the city was abandoned by denizens. The city is well preserved and looks extraordinarily terrific. Continue your road trip and soon you reach Agra.
Accommodate yourself in a hotel. Later, visit the symbol of love and dedication – The Taj Mahal. Catch its sight on your first halt. The marvelous sight of this fabulous Mughal structure would leave you far more than mesmerized in love thoughts. The monument was built by Shah Jahan in the memory of his wife. Located in vicinity of the Taj Mahal is the popular Agra Fort, which is now a World Heritage Site. Return to your hotel by evening. Enjoy the dinner in your serene hotel room and then retire in a comfy bed.
Day 7: Return to Delhi
Agra - Delhi – breakfast – After having a superb, delicious breakfast, you pack your bags and get ready for road journey to Delhi. You are transferred to hotel. Relax in your hotel room and enjoy the delicious dinner. Retire to your bed.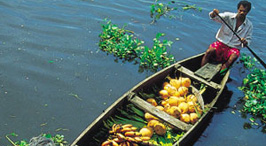 Day 8: Delhi to Kochi
Delhi – Kochi- Relish in a delicious breakfast and then check out of hotel room. The luxury car awaits you and you are transferred to domestic airport. Catch the flight to Kochi (old name Cochin), which is the city located on South of the Kerala. Historical analysis shows that Cochin was once the refuge to Jewish communities. It was here that Portuguese established their first European colony way back in 16th century, and this was later on taken by Dutch, followed by British. Kochi, at its present day, clearly shows mélange of cultures and tourists are fascinated by it.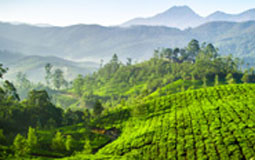 Day 9 - 10: Munnar
Kochi – Munnar - Relish in a delicious breakfast and set out for guided tour. Your first halt is the historic Fort Kochi. Further as you travel, you come across the view of sophisticated Chinese fishing nets and later on move through the winding streets of the old town. Visit St Francis' Church, Parsi Synagogue and later reach magnificent Dutch palace. The guided tour of Kochi finishes and you take the road drive to Munnar - a charming hill station nuzzled on the luxuriant slopes of tea plantations
On your day 10th of Munnar, spend your time ambling through the tea plantations as you are briefly explained about various species of tea and its processing. Later on, enjoy your tour of local market and afterwards return to your hotel. You have entire day left to enjoy and move around.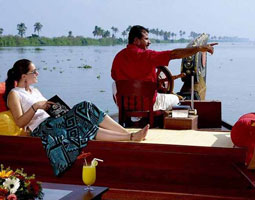 Day 11: Kerala backwaters
Munnar - Alleppey - Kerala backwaters – Relish in a delicious breakfast and set out for Alleppey. It is your first step towards the Kerala backwaters. The moment you arrive in Alleppey, you board a well-kempt private houseboat. Soon you find yourself sailing and swerving through captivating palm-fringed backwaters, with total distance spanning 20 kms. All through the sailing, you will have opportunity to see the pastoral lifestyle. In the evening, catch the glimpse of amazing sunset. Soon, you will be served delicious dinner, prepared on the house boat by professional chef.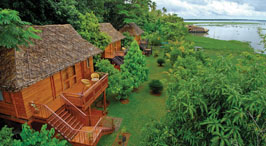 Day 12 - 13: Kumarakom
Kerala Backwaters – Kumarakom- Relish in a delicious breakfast andn then pack your bag as you disembark from houseboat after reaching Kumarakom. This place presents extraordinary superb sumptuous tropical waterways.
Kumarakom is basically a small collection of islands on Lake Vembanad – popular as Asia's largest freshwater lakes. It is the most idyllic place of relaxation for next two days and come close to nature. There is also a wonderful bird sanctuary sprawling 14 acres. Birds from different parts of the world migrate here. It is certainly worthy of a visit.
Day 14 : Kochi
Kumarakom – Kochi – Enjoy the delicious breakfast, and then pack your bags to head straight to Koch and later transferred to airport. Catch the flight to New Delhi.
Tour Ends