Rajasthan Tours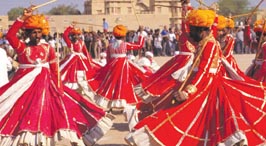 Rajasthan, home of the valiant Rajputs known for their bravery and chivalry, is aptly known as the "Land of Kings". Situated in the North-west part of India, mostly comprising The Thar Desert also called "The Great Indian Desert", and one of the oldest mountain range "The Aravalis", Rajasthan holds the distinction of being the largest state in the Republic of India.
Imposing Forts, mesmerizing Palaces and magnificent Havelis, spread over the princely state of Rajasthan, remind us of rich history of this eternal land, and are one of the major attractions of the state as well as our country. A journey through these masterpieces makes visitors come back again and again to enjoy the majestic blend of royal past and modern comforts. Built on high hilltops, most of these forts and palaces have been marked as heritage sites, while some have been restored and converted into heritage hotels like the Raj Vilas (Jaipur), Udai Vilas (Udaipur) and Umaid Bhawan Palace (Jodhpur).
Rajasthan is culturally rich and has artistic and cultural traditions which reflect the ancient Indian way of life. Fairs and Festivals form an integral part of Rajasthani Culture, Traditions and Heritage, with an unending cycle of festivals with every change in season Some of the most spectacular and colourful Fairs and Festivals of Rajasthan include Pushkar Fair, The Desert Festival, Camel Fair, Teej, Gangaur and Nagaur celebrations. Rajasthani Cuisine, folk music and dance, colourful costumes and crafts, are unique to this part of India.