Buddhist Circuit Train India
Maha - Parinirvan Express - Buddhist Circuit Train Tour
About The Train
Welcome aboard the Buddhist Circuit Special train tour, to discover the path to enlightenment in abode of Lord Buddha!
The Mahaparinirvan Express is a special tourist train that takes passengers on a spiritual tour through Bihar/Uttar Pradesh in India , where Buddhism originated more than 2,500 years ago.
The train gets its name from the Mahaparinirvana Sutra, which contains the Buddha's final explanation of his teachings. Its sacred journey includes visits to the most important Buddhist pilgrimage sites of Lumbini (where the Buddha was born), Bodhgaya (where he became enlightened), Varanasi (where he first preached), and Kushinagar (where he passed away and achieved nirvana).
This train tour is owned & operated by IRCTC Ltd. By modifying carriages of an Air conditioned Rajdhani Express sleeper train, offering three different classes of travel (first class, two tier, and three tier). There are limited toilets with showers on the train, but & daily are taken to hotels to freshen up & for brief rest, or at times overnight stay.
There is an onboard hygienic kitchen car facility & passengers are served sumptuous hot meals. Packaged drinking water & tea/coffee Service is available free of charge As this train is targeted for pilgrimage tourist, the onboard facilities are limited & far from opulent ;& cannot be compared to other luxury train tours e.g. Palace On Wheels etc.
But personal & good care is taken of the esteemed Passengers & they are provided luggage assistance at each destination. Security guards are present on the train, An English speaking guide is part of group sightseeing tours & excursions & their costs are already included in the train tour package
Accommodation Type
As per tour itinerary, at certain destinations hotel rooms are only provided for wash & change basis & available for limited time. Passengers should not expect the wash/change Room facility to be available for a longer duration. Check-in at certain hotels may be delayed due to early arrival, before standard check-in time of hotel The entire train is air-condoned & you have option to book AC III Tier ,II Tier, I Class & I Class Coupe. These may be further explained as
3rd AC Sleeper :
The cabin has capacity of 6 persons on inner side & two sleeper berths on outer side. There is no provision of curtain OR door, for privacy There are two lower berths, two middle berths & two upper berths in each cabin. The outer side has a lower & upper berth
2nd AC Sleeper :
There are curtains available for limited privacy of each cabin with capacity of 4 passengers on inner side. Two lower & two upper berths The outside side has one lower & one upper sleeping birth
1st AC Sleeper :
Each cabin has two lower & two upper berths with provision of sliding door which can be locked from inside
1st AC Sleeper Coupe :
There are limited cabins with one lower & one upper berth with a sliding door, which can be locked from inside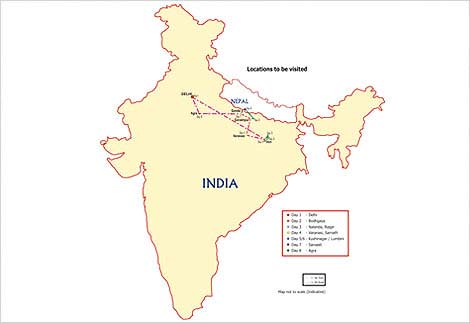 Detailed Train Program :
The 7 nights/8 Days train tour departs from New Delhi in the afternoon of Day 1, to cover Bodhgaya (Day 2);Rajgir & Nalanda(Day 3); Varanasi & Sarnath (Day 4);
Kushinagar & Lumbini (Day 5,6); Sravasti (Day 7) ; Agra Taj Mahal (Day 8 morning); before returning to New delhi on day 8 evening.
Day 01 : DELHI Depart
Report by 2 p.m. at Safderjung railway station for check-in formalities of Mahaparinirvan Express Buddhist train tour. After traditional welcome, be escorted to respective Passenger Carriage & train departs by 3 p.m. Evening tea & dinner served on board. Overnight in train.
Day 02 : BODHGAYA –Town of Enlightenment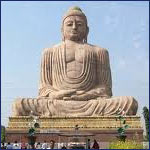 Train arrives early morning at Gaya Railway Station. After onboard wash and Change and breakfast ; proceed with overnight clothes to visit Mahabodhi temple & Niranjana River. Later check into hotel at Bodhgaya for overnight stay. After lunch in hotel & brief rest, visit Thai Temple, Japanese temple & Buddha statue Return to Hotel in the evening for Dinner & Night stay in Bodhgaya hotel
Day 03 : RAJGIR & NALANDA - Ancient University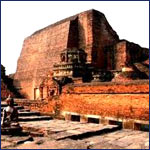 After Early morning breakfast, check out from Bodhgaya Hotel & board buses to drive 2 hours to Rajgir, to visit Bimbimsara Jail,Gridhakut Hill & Venuvan After lunch at a restaurant in Rajgir, proceed to visit ruins of one of the oldest university in the world at Nalanda & nearby located museum Depart by 4 p.m. from Nalanda by bus to reach Gaya railway station by 8 p.m. Train departs by 1130 p.m. Dinner & overnight stay onboard
Day 4 : VARANASI & SARNATH - The First Sermon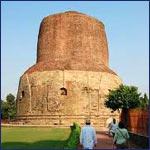 Early morning train reaches Varanasi railway station, proceed to a hotel room for wash & change only, followed by breakfast Morning excursion to Sarnath, to visit Dhamek stupa, Sarnath Museum, Ashokan Pillar & Mulgandha Kuti Vihar Drive back to Varanasi hotel for lunch & time at leisure. Evening visit ancient Ghats of Holy river Ganges, to view evening lamp immersion ceremony Return to Varanasi railway station by 8 p.m. to board the train. Dinner & overnight stay on board. The train departs by 11 p.m.
Day 05 : KUSHINAHAR : Nirvana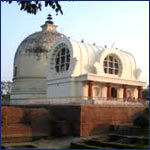 Early morning train reaches Gorakhpur railway station. Board buses for Kushinagar Hotel for Overnight stay & breakfast. Morning visit Mahaparinirvan Temple, Rambhar stupa, Mata Kutir temple etc. Return to hotel for lunch & afternoon at leisure. Evening participate in chanting & meditation session Dinner & overnight stay in Kushinagar Hotel.
Day 06: LUMBINI - Birthplace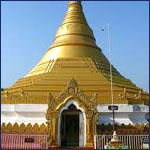 After Early breakfast, check-out from hotel by 6 a.m. & proceed by bus for excursion to Lumbini(Nepal/across India border). Only those foreign nationals having valid Multiple Entry Visa to India, will be taken across the border by train tour officials After lunch in Lumbini restaurant/hotel, visit Maya devi temple,Ashokan Pillar & Pushkarni lake Depart from Lumbini by 4 p.m.& reach Gorakhpur railway station by 830 p.m. Board train for dinner & overnight stay Train departs by 1130 p.m.
Note :
Program for day 5 & 6 can be interchanged also
Day 07: SRAVASTI - A Legend Begins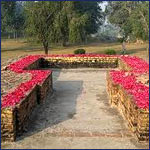 Early morning board buses from Gonda Railway station for Sravasti Hotel for wash/change & breakfast. Morning visit Jetvana Vihar,Pakki Kuti & Sehat Maher Thai temple, After lunch in Sravasti hotel Drive back to gonad railway station to board train by 5 p.m. & depart by 6 p.m. Evening tea & dinner on board Overnight on train
Day 08 : Morning : TAJ MAHAL
Morning train reaches Agra railway station After onboard breakfast & wash/change, visit one of Seven Wonders of Modern world, The Taj Mahal. Return to train by 1230 Noon & train departs by 215 p.m. for Delhi Onboard lunch 7 evening tea
Day 08 : Evening : DELHI Return
Check-out at Safderjung Railway station on arrival by 630 p.m
Pilgrimage Tour ends
Note :
On 6th October 2013 depart, the train will operate in reverse direction


Depart Schedule: 2014 - 15 Season
7 Nights Buddhist Train Depart Ex Delhi
Month
Day
Date
September 2014
Saturday
27
October 2014
Saturday
11, 25
November 2014
Saturday
08, 22
December 2014
Saturday
06, 20
January 2015
Saturday
03, 17, 31
February 2015
Saturday
14
March 2015
Saturday
14, 28
Note :
Train Tour will operate subject to minimum 50 paid passengers

Tariff : 2014-15 Season

7 Nights Train tour (Per Person)
Category of Cabin (Train is centrally Air Conditioned with Sharing Toilets )
Cost per Person
1st Class AC Sleeper on Twin Share
@ US$ 1735
1st Class AC Sleeper on Single Occupancy
@ US$ 1935
+Service Tax extra as applicable
Note :
* Add 3.09% Govt. Service tax extra
* Children <12 years are charged 50% of adult cost
* Children <5 years complimentary without bed
Train Tour cost Includes :
Travel & stay in Rajdhani style AC train with sharing toilets, Facility of wash & change in hotel rooms;
Daily 3 meals & packaged drinking water; Conducted sightseeing trips in AC Buses with English speaking guides; Monument entrance fees
Extra Costs(not included) :
Professional/video camera fees at monuments; alcoholic & non alcoholic beverages; laundry, tour insurance, tips, room service Or telephone calls in hotels, Visa fees for India Or Nepal; hotels bookings not specified; air ticket OR any other expense of personal nature


BOOKING TERMS & CONDITIONS
Booking Procedure – Buddhist train tour
BOOKING PROCEDURE :
1. We require Names/Nationality/date of birth of all the passengers with preferred journey date to process your booking request
2. The booking will be confirmed on receipt of minimum 25% of total ticket value
3. Full payment must reach us at least 65 days before tour date with photocopy of passport & multiple entry visa for India
4. Booking request made < 65 notice will be confirmed on receipt of one time full payment
Cancellation Rules :
1. The Mahaparinirvan Express Buddhist train tour is owned & operated by IRTCT Ltd & rules accordingly framed.
2. Train Tour bookings are Non-endorsable & non transferable.
3. Only on receipt of written request, will we process your cancellation request.
4. MINIMUM levy of 10% of total ticket value if cancellation request made > 50 days in advance
5. MINIMUM levy of 25% of total ticket value if cancellation request made between 45 to 20 days in advance
6. MINIMUM levy of 50% of total ticket value if cancellation request made between 20 to 10 days in advance
7. Full 100% levy of total ticket value if cancellation request made < 10 days in advance
8. Failure to meet payment deadline will be treated as per cancellation rules

Payment Options :
a.) Online credit card authorization (only VISA/ MASTERCARD accepted)
OR
b.) Swift wire transfer
OR
c.) Indians can pay by RTGS/Cheque payable at par in New Delhi (India)

MINIMUM PASSENGER GUARANTEE CLAUSE :
i.) The Mahaparinirvan Express Train tour will operate subject to booking of minimum paid passengers
ii.) The onus to inform of non operation of scheduled depart for which advance payment has been taken is sole responsibility of Principal Train Tour
Operator viz IRCTC Ltd ; & maximum liability of Lawrence Travels & Tours Pvt Ltd in case of tour cancellation is limited to the advance taken for booking of train tour
iii.) Disputes, if any, are only subject to jurisdiction of courts of New Delhi (INDIA)